I am a huge HGTV addict, as my first post stated i.e.: I bought The Magnolia Story a day after it's release. I love Property Brothers, House Hunters, House Hunter International, and the top dog for me: Fixer Upper. Kevin will tell you Fixer Upper Tuesday is a real thing in our house. It's a problem. A great problem. But it is also something that shows up a ton on my Pinterest. My Pinterest Board has 3 boards of home decoration and home plans, along with decorations and furniture, so you should check it out.
Today, I want to talk to you about some bedroom envy I have. I live in a place that I will be in for just a year, after living in a sorority house during college. All great places that I love (my sorority house is beautifully decorated and would give anyone, including Joanna Gaines some decor envy) but I want to be able to decorate my own place. I would love to have all of these bedrooms in my future home, but unrealistic and they also wouldn't match. So instead I'm going to show you all of them. And tell you why I love them.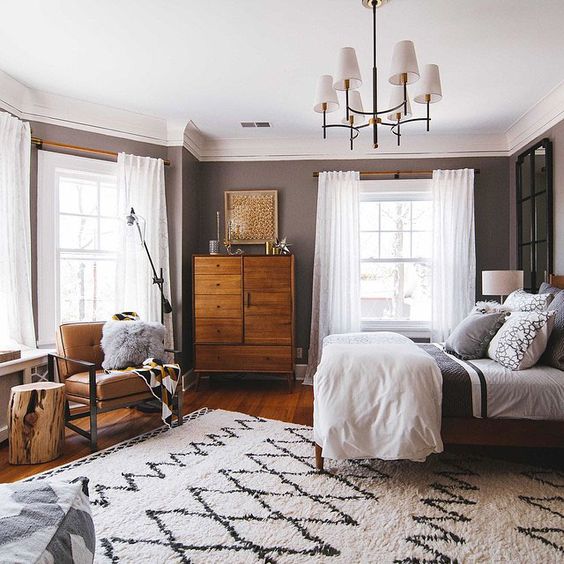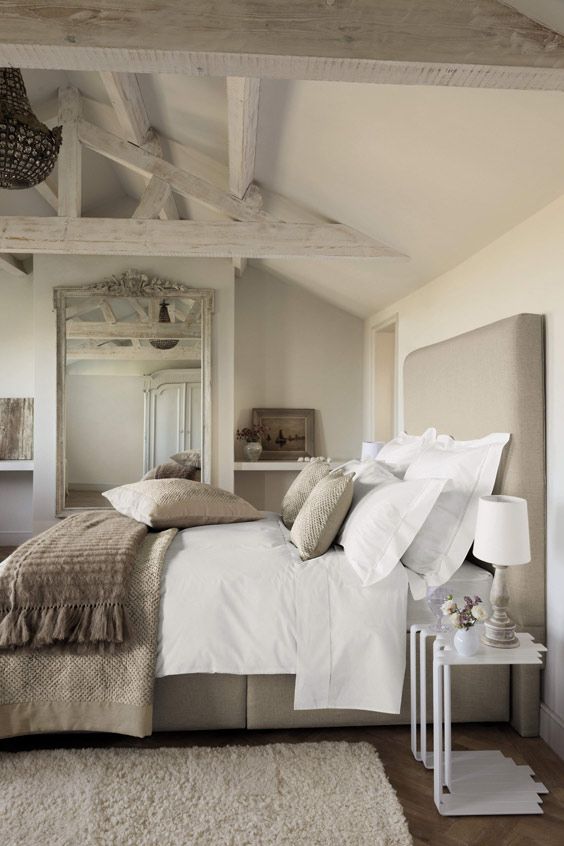 I love the dark greys and light greys in these bedrooms. I am a huge fan of neutrals, plus blue, and I love how simple these rooms look. They are simple but put together and a very classic look. The top is a lot of mid century modern pieces and that rug is to die for. Plus the wood floor in the bottom picture has a zig zag design and it's fantastic looking. Joanna Gaines would definitely approve of that mirror in the background.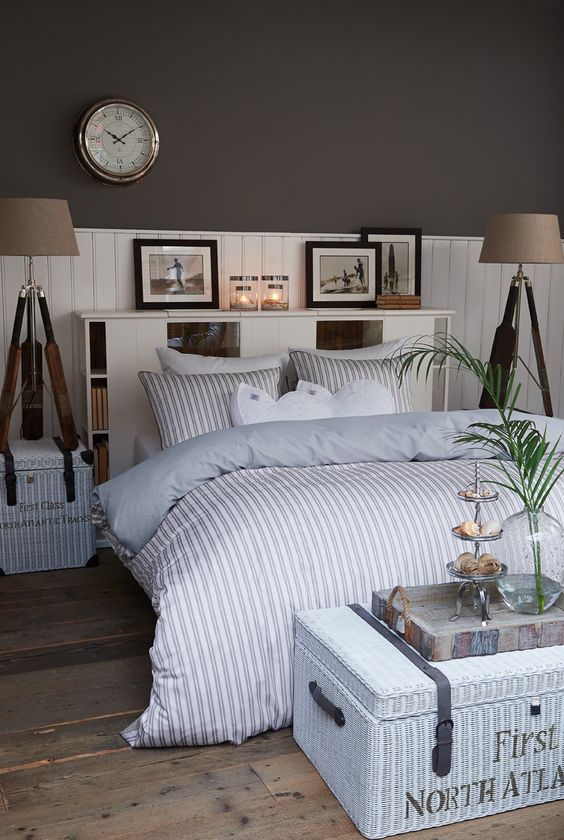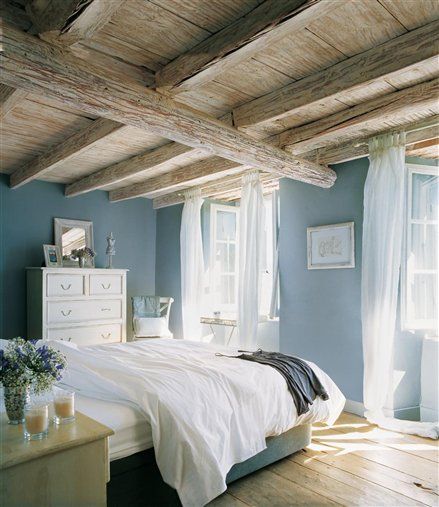 it's my blue bedrooms! I love the blues and the whites and the grey in the top picture. My bedspread on my bed right now is copied after it actually (not closely, but I tried). I also don't really like having lots of items in my bedroom and I try to avoid clutter but they do it so well in this bedroom. The candles and the plant are definitely things I want to incorporate into my room somehow. And the bottom looks so clean and pretty. The white bed with white curtains looks fantastic with that shade of blue and I wish I could paint in this rented loft.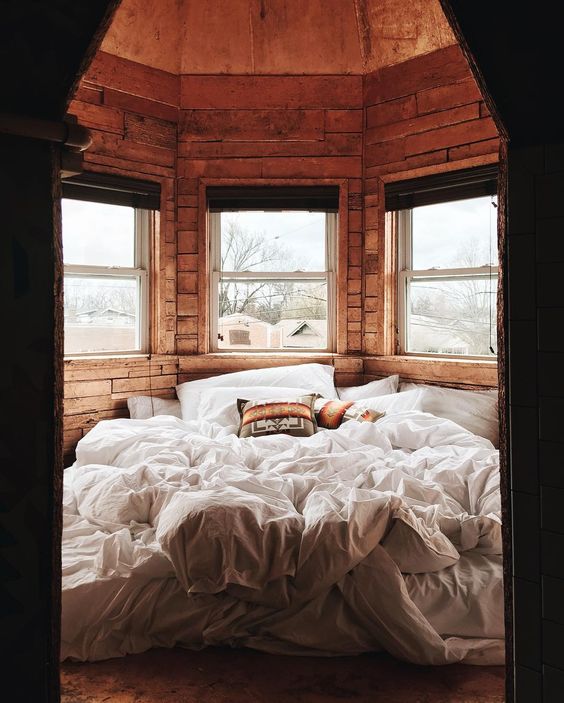 I just love how much of a nest this looks. I don't know if I could have this in my own home but I look for it on Airbnb all the time. Airbnb lets me stay in places that I want to live in but there are practical reasons (like I am too high maintenance and I like too many extras). Kevin and I once stayed in a school bus in Austin!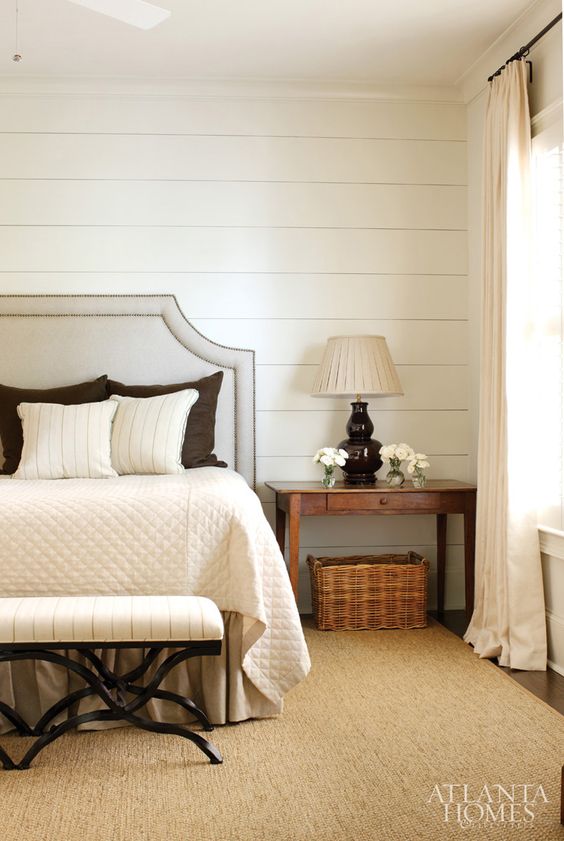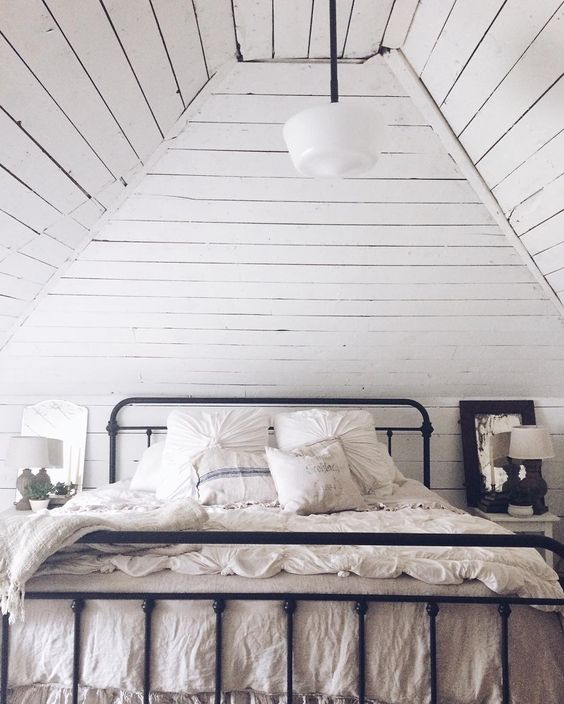 And what kind of Fixer Upper fan would I be without some shiplap bedrooms? I love the white crisp shiplap look and how it acts as decoration in and of itself.
Here's what my bed looks like in my new place. There is literally nothing else in my bedroom to show you. (Sorry for the super bad iPhone picture). But it is super comfy.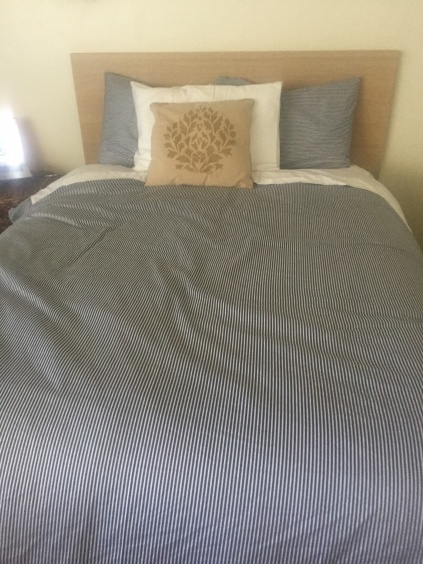 Disclaimer: All these images came from my Pinterest boards and I couldn't track down the original sites it came from. But props to them for having AMAZING bedrooms.
HAPPY SUNDAY FRIENDS! I hope you all sleep in today.