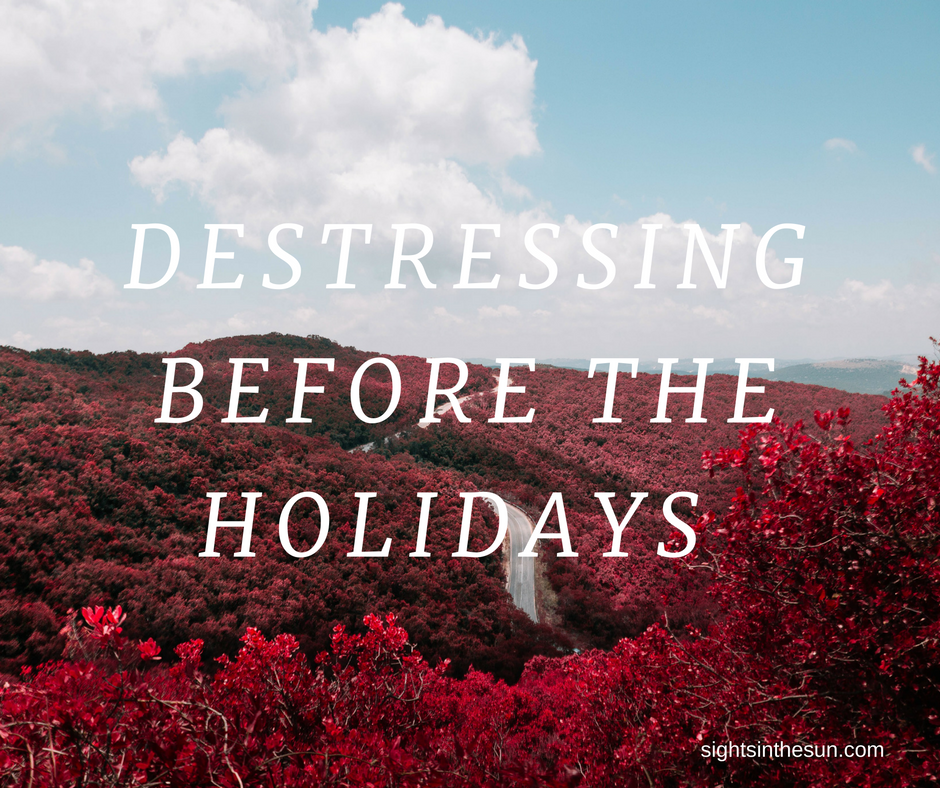 Hello! How are you?? Are you almost ready for christmas? Get all your shopping done? Everyone for me is done except for dad… Sorry Dad, still looking for the perfect work boots! But I'm moving more towards the point of relaxing for the holidays and not worrying as much. Here are my 8 ways i'm destressing before heading home for the holidays!
TAKING CARE OF ME
This means getting my nails done, hair, skin cleared up, anything that could keep me from being confident about how I look. Now I can deal with any family situation when I'm feeling confident and that includes looking my best. So I make sure to take care of my stuff before I even get there. You'll see me on Thursday morning Ulta Benefit Brow Bar!
CLEANING UP
Straightening up my house and my closet and kitchen over the weekend/before leaving helps a lot. We've been straightening up the house after the stress of finals and a couple stressful weeks at work. It's been a little rough. But we're working on getting the bar area/Kevin's desk area under control and cleaned up. And then we're moving onto the bedroom. Then the bathroom. And then heading home to LA! And then off to Vancouver and Seattle and Portland and everything in between. But cleaning up and making everything in my house look nice will not only leave me content before the holidays but during and when I come home.
WRAPPING THE PRESENTS
Having spent so much time over the last couple weeks picking out these gifts and thinking about the makes me really happy to wrap it and be done with it. I'll be even more excited when I put them in the car and under the tree in LA and really be done with stressing over presents. I can move onto the being happy that I can give presents to people and grateful I have people I love to give presents to.
RUN ALL THE EASY ERRANDS
Olivia Wilde is doing better than me with her healthy green smoothie. I'm always running errands with a diet coke in hand. Need to get stuff at Target before traveling? Check that off the list? Need to run by Ulta and pick up your dry shampoo (totally guilty)? Get it done. Just go and do it and then don't worry about it. There is more things to stress about than when you have time to go to Target or Costco. Kevin and I went to Target today after work and are planning to go to Homegoods/TJ Maxx tomorrow to pick up some last minute gifts for our parents. Which leads me to my next point…
PLAN OUT YOUR TIME
When I was in school, I always had a sticky note on my Mac of everything I needed to do. Nothing on that list said to stress and watch Netflix while stressing. But that's what I did. I said "Too much to do!" and worried about it while watching Nexflix. To avoid that I have the next couple days planned out so once we head home, I'm not worried about stuff. Tomorrow morning, I'm going to breakfast with friends, then work, then final christmas shopping (hopefully), and dyeing my hair back to my dark brown. Like I said, confidence booster. Wednesday morning: personal statements! Then work, then finishing up the personal statements and send it off to my pre law advisor for her thoughts (so grateful for her really), and then Thursday is the day! Packing in the morning, work, come home from work and get on the road with Kevin. Sounds planned out and hopefully it won't get derailed.
Hopefully you're already home enjoying your family but if not, it'll be very soon! How are you destressing this week?
PS Read natural remedies in case you get sick during this busy time and christmas decorations!