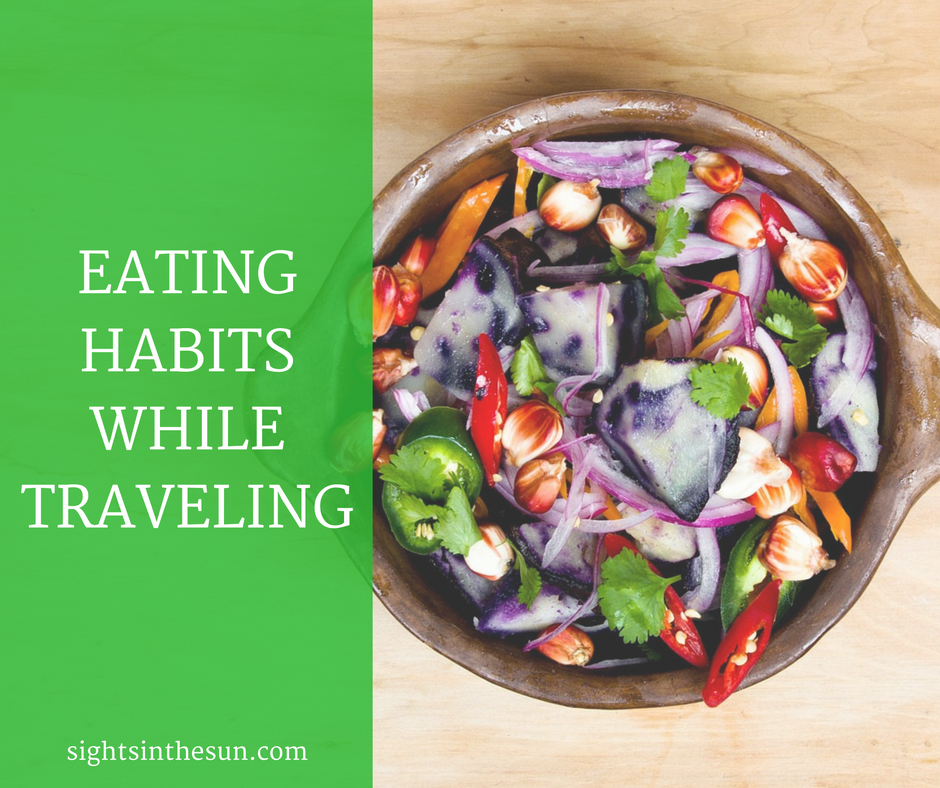 I've been trying at home to eat really healthy for my body. I made that decision this past October when I was just feeling sluggish and tired all the time. Even when I was getting 8 or 9 hours of sleep, I always felt tired. And so I started googling and pinteresting ways to reduce my tired feeling and a lot of it came back to my diet. I was eating a lot of the things on lists that had marked them as things that would make you sluggish. And so my healthy eating began.
I was feeling nervous about my skin so I looked into cutting out dairy to help. And it really worked. Cheese, milk, ice cream, and dairy in general isn't something I eat normally now. So no pizza, no half and half in my tea, using milk substitutes for my lattes and cereal. And I also have really tried to get down my bread intake. It worked well, I even held strong during the Holiday Season. Until this trip.
I have had so much fun on this road trip and we've had such amazing experiences and times. But a lot of some of our laughing, enjoyable picture perfect times take place over food, you know? So I've been lax on my no eating cheese or ice cream. It was easier to be like "We're on vacation!" But it really caught up to me in Seattle. We had been eating such good food, but such rich food, my body was tired of it.
Yesterday, we were walking around Bainbridge Island, one of my favorite places, and just gross. My body was revolting and so when we stopped at lunch, I got a veggie sandwich and it was glorious. Pita bread filled with hummus, cucumbers, red onions, lettuce, carrots and sprouts. I felt so good after eating it that I realized some things about eating while traveling.
1. Don't shock your body with food. I hadn't eaten dairy in 3 months and so when I had cheese at breakfast in my omelette, a cheeseburger and hot chocolate with real milk, and then pasta with a ton of parmesan on top, no wonder my body got mad. Yes, have the cheesecake if you want but maybe not also the cheeseburger and milkshake. I don't want to regret not eating the ice cream from the shop that I've heard about on 8 different blogs, but I want to take care of my body too.
2. Look for restaurants that offer things that make your body feel good and that you really want to try. Kevin and I love thai food, and thai food doesn't use dairy really, it's a rarity. So in every city we've visited, I've had some great cashew nut dishes and chicken satay. And because I like that food, I look forward to it. So look for those place that make you excited.
3. Get your own snack game going. I made sure we had trail mix and healthy snacks I liked in the car with us on our drives and while we're exploring so I don't get sucked into wanting to buy the unhealthy processed stuff. My body gets so angry with it when I eat that stuff. So stock up before and know your weaknesses. I try to make sure that I get more excited about my own snacks than about the potato chips in the gas station.
4. Drink water. Everyone needs more water.
5. Commit to one healthy meal. Like super healthy. Today was an example, we had a filling breakfast so tonight, we had thai that consisted of meat, onions, cashews, bell peppers, and carrots. Pretty good right? Balancing it all is important.
6. Stick to your routines. Stick to your skincare routine, your vitamins, and your sleep schedule as much as possible so that your body is ready to take on all your amazing adventures around the city. It'll make your trip more enjoyable because you'll be ready for anything and feel like yourself.
Happy travels!
PS: Today starts the amazing Lilly Pulitzer Sale!!!! Check out the amazing deals they have and also check out other stores that sell Lilly because Lilly items go on sale other places too during the sale.
PPS: Travel tips for airbnbs and my road trip essential