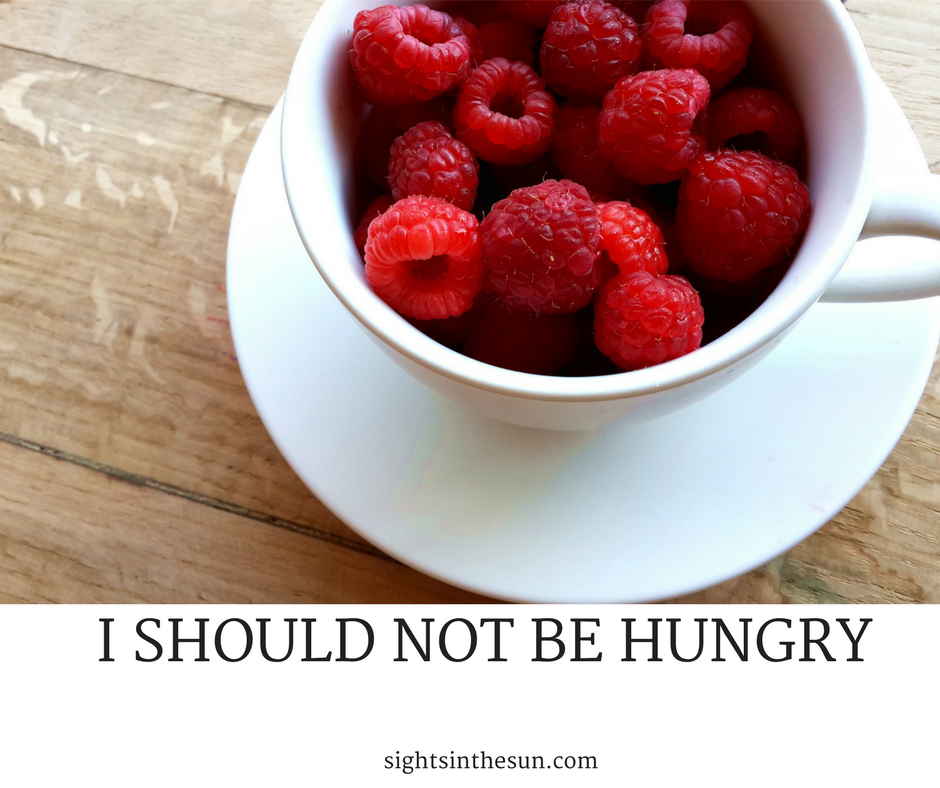 'I shouldn't be hungry.'
I say this quite often. Have you ever said those words to yourself? I say to myself all day because I'm at home a lot lately with the food we buy weekly surrounding me. Sometimes it's 'I shouldn't be hungry' because I only ate two hours ago and all I've been doing is sitting at my laptop. 'I shouldn't be hungry' because I've eaten a lot today. And a lot of the time, I think 'I shouldn't be hungry' because I'm trying to lose weight right now and its my body/mind just being an asshole trying to sabotage me. But now I've decided I'm going to stop shaming myself for being hungry. For feeling a feeling that is natural.
There is a lot of food shaming and fat shaming around, in the media and on tv shows. There is a lot of guilt and shame for openly eating almost. I have felt eyes on me as I've walked down the street eating a to go crepe from one of my favorite eateries four blocks from my house. I have felt awkward and gross when ordering a full meal in a restaurant when one of my skinnier friends just get a side of fries or half a sandwich. There is a lot of self-consciousness surrounding hunger and food in our society.
But no matter all of those things, when you're hungry, you're hungry! There's no 'I shouldn't be hungry,' you are hungry.
There is something to be said about what you're eating or about eating healthy snacks or eating when you're bored. Or upset. Or tired or hopeless or the many reasons why people eat. There's lots of reasons and things surrounding unhealthy eating. But I'm not going to dive into that-that is another conversation for another time.
I'm saying after taking in personal responsibility, eating healthy mindfully and on a regular basis, if you feel hungry and want to eat, just eat. All of our bodies do amazing things all day. We take care of each other, we work out, we walk and live and breathe all day. So the next time my body says 'I'm hungry Bronte,' I'm going to listen to it.
I try to be healthy and exercise and do everything I can for my body. But somedays, I just want a Five Guys burger with extra grilled onions and jalapeños, a regular fries and a diet coke. And I aim to not make myself feel bad about the next time I want them.
Hunger is normal. When you lose your appetite, it usually means something is wrong. And so let's be happy when we feel hungry, be kind to ourselves and our minds, and be thankful for being able to have food readily available to eat. There's enough stuff out there trying to shame us, let's not add ourselves to that list.