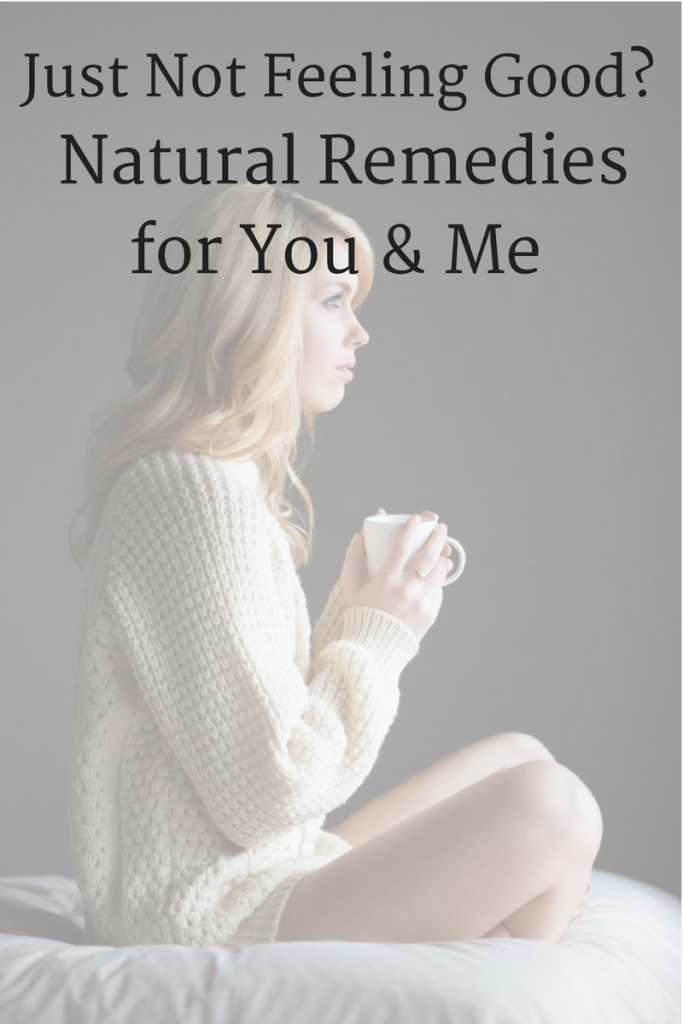 Good morning and hope your Sunday is going good! I'm hope you got to church or go on a hike or do something for yourself this morning that you love. Unfortunately, I've not been feeling too well these last couple days since I got back from Missoula. I must have caught something on the plane home. So, I've been googling for natural remedies of what's been ailing me.
For Sore Throats: 
Chamomile Tea with Honey. Because the chamomile tea has things in it that not only kill bad bacteria in your throat but also acts as a painkiller for your throat and head. It also has things in it (they are actually called antispasmodic properties) that help you relax and unwind. It'll help you rest. The honey helps coat your throat as you drink to ease the pain of your throat when you swallow said drink.
For Tension Headaches aka Stress Headaches: 
Honestly, I haven't been able to take this tip this sickness time around but I totally recommend it when you just have a tension headache. I really say just take the time to destress. Do some yoga (and it doesn't have to be a mountain, it can be your living room) and just take some time for yourself. Step away from what you're doing, stop thinking about it for 30 minutes, sniff some lavender oil and chill out. Watch an episode of Gilmore Girls or take a nap. It isn't a long term fix but you can just step back and take a couple minutes for yourself.
It's not an instant fix for the problem that is giving you the headache but it's better than just dulling the pain for a couple hours and continue to be stressed out. I currently have a headache because of the sickness and I have been taking Aleve and going back to sleep. Don't be like me.
Achy Body and Pains 
I swear by epsom salts and bubble baths. I take baths quite regularly and use the epsom salts when I do because always something hurts a little right? Nothing cures like heat remedies, which are supposed to work better than most medicines like creams. I love baths and it just helps relax you. Add a glass of wine if you're also not fighting off a cold/flu like me.
Tired All The Time? Totally Fatigued? 
When I'm tired and can't shake it for a couple days, I work out purposely. I hate feeling tired when I know I got my 7 hours of sleep. Usually, I just go for a walk and do some yoga or weights like a normal day. When I am feeling fatigued, I start with stretching and intensify my workout over an hour or hour and a half. It's called graded exercise therapy, but I learned the trick from my sorority big who majored in exercise therapy. She told me it sophomore year.
Sometimes all you need is a good workout so that you can get a really good restful sleep night. The kind where you stay in the same position and wake up refreshed. When I get off my sleep schedule and then back on it, this happens to me and I use that workout to make me tired. Boost the energy levels!
Nausea 
I swear by saltines and ginger ale. You can make your own ginger ale if you want and there are some great recipes on Pinterest. But when you're sick and nauseous like I have been, I went "Kevin, please go get me Canada Dry at Rite-Aid" so no judgement for getting some store bought. You can put ginger in hot water to make tea or have peppermint tea. Saltines make me happy too because I can eat something when I am afraid to eat something. Saltines are supposed to settle the stomach and it's why pregnant women with morning sickness swears by them. Nausea is rough though so do what you can to make yourself feel better.
Congestion
A hot shower is the best thing I can do for myself when I can't breathe. But don't stand. Sit in the shower. An unfortunate instance yesterday in the shower was when I got lightheaded and slipped/glided myself down in the shower. So I recommended sitting in the steam with the door closed and hot. It opens up your sinus cavities and makes it so that they can become unplugged. You know that feeling when you blow your nose and nothing comes out? This solves that problem. It works really well and it's easy to do.
Okay, I'm going to lay back down now and rest up for work tomorrow. Happy Sunday friends!
PS: Check out my visit to my college town and my road trip essential/travel essential: music.