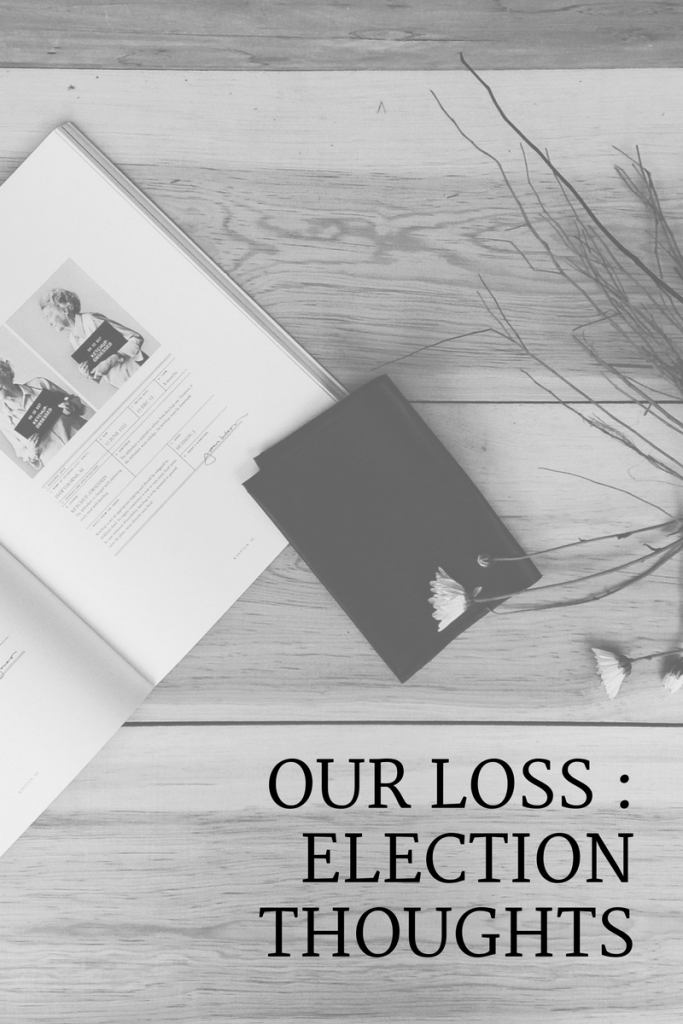 The night of the election, I was laughing and making jokes with my sorority sisters about Trump and Clinton, even though I had been with her from the start. I told my funny election joke over and over, "The obsession with emails is like if the world was obsessing over the Bronco's registration during the OJ trial." And people laughed. We read out funny memes on our facebook pages and joked with each other. And then his electoral votes kept going up, and I got quieter. I got quieter and quieter until I was joking anymore, people around me still were, some were choosing to go to bed. When I saw that the Clinton campaign decided to send their people home, I realized, Clinton's lost. We lost. I lost.
I sat silent as more and more states were allocated and I knew we had lost. But I had to hear him come on. I had to hear him speak. And I did. It wasn't satisfying to me. I didn't get inspired by it as I have become accustomed to when listening President Obama or Secretary Clinton, even Mitt Romney and John McCain had inspired me to an extent. Trump just made me upset. And tired. And mad. This man is going to change my life. He's not going to change for the better.
I thought of the people with pre existing conditions who are going to soon be without health insurance when the Affordable Care Act is repealed. I thought of the people who are going to be frightened over the next four years because of their immigration status, of Kevin's parents and my mother's family. All of whom have lived in the United States for over 20 years and are worried about President-elect Trump's plan. I thought of Planned Parenthood, a place that has saved me personally hundreds of dollars by offering low cost/free birth control, saved my friends from unwanted pregnancies, saved lives from detecting breast cancer, cervical cancer, and general health problems. They are facing a plan of defunding. Not to mention the thousands of LGBTQI people in our country who will be negatively affected. And so many more actions. And you can't tell me it won't happen.
He has said it numerous times. It's stated in his first 100 days plan. He has surrounded himself with people like Mike Pence, Paul Ryan, and others who made it part of their campaign promises as well. And so this morning, when I woke up, I laid in bed and spoke to my grandma about how upset we were, how heartbroken, how angry. We felt like we had suffered a death. A death in a future with the first woman president and a future of progress in a direction that I had fell in love with led by leaders like President Obama, and Canada's Trudeau. So today was for grieving, not just for my loss in that future, but for everyone.
One moment that truly stood out to me was in Hillary Clinton's concession speech that brought tears to my eyes. When Bill standing behind her, as she has done for the last 30 years for him, he mouthed "That's my girl" beaming at her, not just in love, but professional respect, pride and admiration. And that is not something we see in our society much. This election has shown us so much about sexism in our country. No one faulted Donald Trump for waking up one morning and wanting to be president, having that much ambition, but Secretary Clinton has been faulted with it for over 20 years. How dare her want to do more than just nurture?
She had spent her time nurturing her husband's career, her daughter's successes, while she was underestimated and undervalued again and again for wanting to do more than that. She did everything right. She went to a great undergraduate program, became valedictorian, went to one of the top law schools in the country then and now, married, had children, supported her husband's dreams, gave to the public, gave herself to us, supported her husband through scandals I don't know I would be able to stand by my man through, gave more, ran and lost a presidential campaign, gave more to the American public, and ran a presidential campaign again. She did everything every successful presidential candidate has done to become president. Only she did it in heels. And because of that, because she was a woman, the country still didn't trust her. She did everything right. But her endurance still stood as she gave us another inspiring speech the morning after election day, specifically telling my generation to not stop and not give up. So I am not.
We lost. We have suffered a loss. But now, I'm not going to be mad anymore that Donald Trump is President-elect and will become my president on January 20th. I can't do anything to change that. Yes, she won the popular vote, but the electoral college (which by the way was created so the elites had more power) still chooses our president. And the electoral college made Donald Trump our president through our ballot boxes. Now we have to find out how to live under him. And we can take a page from Hillary Clinton's endurance and make sure we keep going. We can get through this and we will.
PS: Sorry for the long post. I don't really talk about politics all that much, but I do know what I'm talking about. I'm not just some random person with more thoughts on the election on your Facebook. I have a degree in Political Science emphasizing in American Government and International Relation. My minor was Women and Gender Studies. I've worked in political and healthcare movements for the last 4 years. I like talking about this stuff and I hope you like reading it. Tomorrow, I'll be posting the travel post I planned to post today.