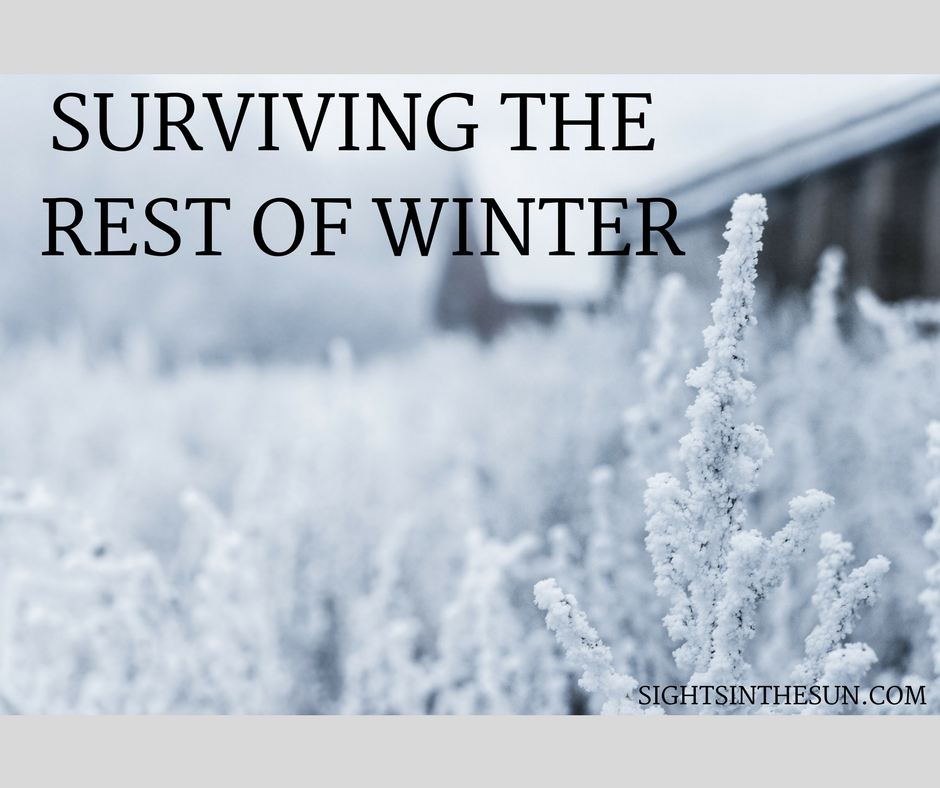 February is definitely the time when winter seems it will never end. Now, I live in California right now so I'm still enjoying 60-80 degree weather. But I did spend last winters in Montana, a place where winter doesn't end and it snows into May-like it did my freshman year during finals. So I learned some ways to survive the long winters. I was never really good at surviving winter and would complain about the cold. But some things (like an amazingly soft blanket) or helpful everyday items (like a great scarf that will keep you warm for the rest of this winter and the following winters).
Create a cozy spot on your couch. 
Yeah it's cold outside but at least you're enjoying a Netflix marathon or finishing up a good book under a nice blanket. Some of my favorite choices for a marathon are The West Wing, Heartland or The Office. Even in California, on the days it gets California cold-read that rainy and 50- I watch Heartland and remind myself at least it isn't an Alberta or Alaska winter.
Stay in bed. 
 With some good soft linen sheets, comfy pillows, relaxing lighting. A day spent in bed, or even a late morning, catching up on emails, reading the paper, drinking your tea or coffee, makes for a more relaxing day when you have to go outside into the cold.
Drink a good cup of tea.
Not just the Trader Joe's brand, but like a nice brand of good tea. Nothing's better on a cold night. Unless you can trade it in for a warm night drinking a deliciously fruity alcoholic beverage like a margarita or daiquiri. And I would like that superpower.
Treat yourself.
Its cold out and school/work is going on day in and day out. So treat yourself to something that will make you happy on those days that it is super cold out. My choice was always if it was super cold, I would tell myself that morning "Get to all your classes and responsibilities today and you can have Five Guys Burgers & Fries or Five on Black for dinner tonight." And on the way home, I'd pick up a cannoli from Ciao Mambo. I was also a big fan of ordering the delivery of pizza hut wings This was almost always on Thursdays. Thursdays were the longest days in my undergrad career.
Unstuff your house.
Houses get stuffy during winter with the made heat, no open windows, living and breathing in that same air all day. So unstuff your house with a candle that smells of some summer or summer fragrance like oranges.
Wear warm pajamas. 
Not just pajamas, but warm socks, slippers, robe, and anything that makes you feel cozy. It'll be perfect for the tea drinking and the Netflix watching.
Go have dinner with people.
Make plans! Get out and paint the town red and don't cancel if the weather looks bad or actually is bad. And if you can't get out and have dinner, call and catch up with someone. Isolation in winter is a real thing.
Get out of town.
When those winter blues have you too down, take a trip. If you can afford it, make it somewhere warm. I always visited my parents for their birthday's in February because it would be a break from the winter and school but also a warm weekend in LA between the weeks of below zero temps in the Montanan mountains. If you can't get away, take some of your friends and go somewhere. My friends and I always would take off to visit hot springs or cities close by like Spokane or Bozeman.
How are you getting through winter? Sending you sunny vibes!