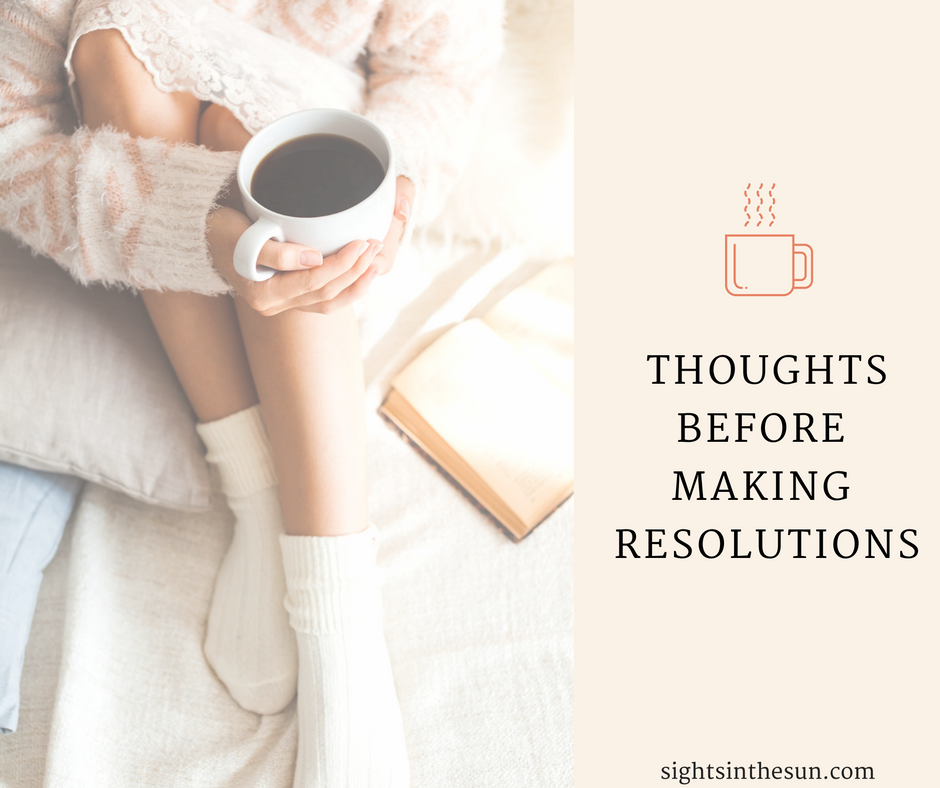 Before we all make our resolutions or if you have already made them and already feel the pressure to not follow through, here are some things to think about. I certainly am. I like to make resolutions twice a year: once in January with everyone else and once in August/September when new beginnings happen personally. It's always been the start of a new school year or this year, moving to a new city. And I always make around the same type. Be healthier. Spend less time watching Netflix and TV. Be nicer in daily life. But these never work and I think I know why.
I need to think before making promises for myself for 2017. I want it to be a good year and want to succeed this year in making myself happy. So here are some of the things I'm going to look at and think on before making my promises.
1. Look at How Far I've Come This Past Year: I've done a lot this past year to make myself happier. And some of the questions I've asked myself. What choices have I made that made me happy and what choices didn't? What am I proud of from this past year and what am I not? Who do I love having in my life right now and who do I try to avoid or I let fade away in the background? What did I want to do that I didn't do? Ask yourself these honestly but without making yourself feel guilty. Everyone has enough anxiety in this world without adding on more from trying to make positive change in your life.
2. Long Term and Short Term Are Both Important: Short term goals allow you to succeed in the long run. It's like running the marathon. I couldn't go out right now and run a mile without stopping, so why would I agree to run a marathon right now? And there is more ability to kick yourself when you're down with huge goals loading in the background of your mind. So make short term goals that could bring you to long term goals. Kevin and I both have been talking about running and becoming runners so we decided that we're going to start walking everyday. Then in March, look into walking/running. And hopefully by summer, be running more than walking. Short term into long term. Where do I want to be at the end of the year? What can I do and accomplish little by little to get there?
3. Ways to Give Back: I know I want to give back more this year. I was insanely active in giving back, volunteering, politically active, making change and involved in making change that I was able to see tangibly. And I haven't done that since I graduated really. Yes I do my volunteering still and make sure I donate to causes that are important to me, but I want to do more. How can I give back to my boyfriend, my mom, my dad, family, friends? Saying yes to more rides or when people ask me to loan them $20? Is there someone who needs my time and friendship that I can listen to and be there for? What can I give to you as readers? What would you like to get from me? How can I give back more and what can I give to make myself happier?
4. Welcome the Unexpected: This last year ended differently than I though it would. I was hoping to be watching (or maybe even going to) the first woman being sworn in as president. Back in May, I thought my December was going to be a lot different than it actually was. But it's okay! As Pinterest says, life is predictably unpredictable. Sidenote, go on Pinterest and look at some of the inspirational quotes that are on there that you want your life to reflect. How do they factor into your resolutions? As long as I'm open to change and what life brings, I can figure it out. There's nothing that can't be figured out with good planning. I'm going to make sure my resolutions and what I am hoping for out of the next year will have the door for adventure open.
So, I'll be making my resolutions over the next couple days and sharing them with you then!
Also, if you're looking for some articles to read about making resolutions, I recommend Blair at the Fox and She's awesome article from the 2nd.
Good luck making your resolutions!
PS: Simplifying my Closet and Staying Informed